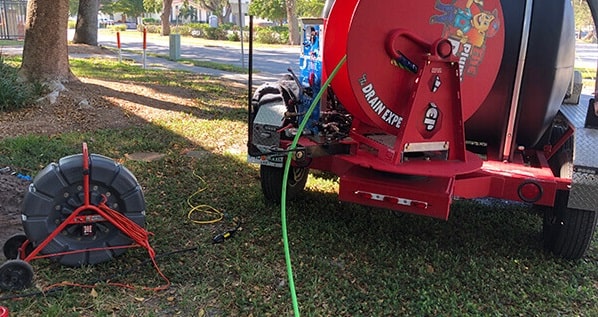 Every homeowner eventually has to face plumbing repairs. Here at The Plumber's Plumber, each expert plumber in Fort Myers, FL, will recommend hydro jetting before many repairs. Make sure that you understand what hydro jetting is and why it's important so that you can make an informed decision about whether it's right for you.
What is Hydro Jetting?
Hydro jetting – also called pipe jetting – is a procedure used by professional plumbers to help effectively remove blockages and clear out pipes. It's a non-invasive solution that involves blasting water through the plumbing system with the use of high-pressure water jets. Hydro jetting services can completely remove buildup, clogs, and debris from plumbing systems quickly.
Why Use Hydro Jetting?
No professional plumber will recommend using commercial drain cleaning chemicals over hydro jetting in Fort Myers, FL. They can damage the lining of your pipes and they're toxic. Worse, many of these chemicals simply push the clog further down the drain. This can create bigger problems down the road, especially in sewer pipes. However, if plunging doesn't fix a problem, an at-home drain snake may help. It all depends on how far down the clog is and how long it has been forming. This method also leaves behind sediment and debris that can form into a clog in the future.
The Beauty of Hydro Jetting
Hydro jetting equipment is designed to protect your plumbing while delivering a blast of water. That water pushes any and all residue and debris in the pipes out through the other end leaving a clean avenue for water and/or waste to flow without causing damage or leaving a mess. No other method gets pipelines as clean. Moreover, it works well for simple maintenance cleanouts as well as complex tasks like sewer jetting.
Finally, hydro jetting can be used to remove tree roots from your plumbing. Hydro jetting roots can help to remove those destructive elements before they become a huge problem.
For thorough hydro jetting, The Plumber's Plumber is your best bet. Get in touch with our team by calling us or filling out the online form.